4th Annual "29 Who Shine" Awards Kick Off 2014 Commencement Season
Governor Patrick, Education Leaders, Media Publishers to Honor Community College, State University and UMass Graduates for Contributions to the Commonwealth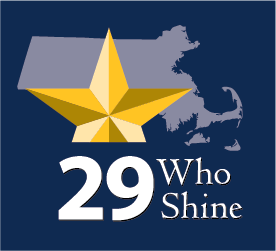 The Massachusetts Department of Higher Education has announced the Class of 2014 winners of the 29 Who Shine awards, the Commonwealth's annual ceremony honoring one graduate from each community college, state university and University of Massachusetts campus for their academic achievements and civic contributions to the Commonwealth. Profiles, including home towns and student photos, are available here .
Among this year's honorees who will attend the State House awards ceremony at 12 noon on May 8th are student veterans of the wars in Afghanistan and Iraq, students who achieved academic honors despite becoming homeless, and students who launched local organizations to combat sexual assault on campus, promote autism awareness, and create lending libraries for students who cannot afford to buy textbooks. The "29" also include graduates who taught computer skills to domestic abuse survivors, conducted medical research to limit the spread of infectious diseases, and volunteered in local nursing homes and schools.
"The 29 Who Shine represent the best and the brightest of our public higher education system," said Secretary of Education Matthew Malone. "I'm inspired by how these graduates are giving back to their communities and at the same, for many, also working full time to support their families. And even with all they have going on these students achieved high academic honors. These are the types of people who you want as your neighbor and I'm very proud of each of them."
>> More information on the29 Who Shine Awards
DHE, Governor's STEM Advisory Council Launch New Public Lecture Series
Series Opens May 2 at Dassault Systèmes with Focus on Tech Skills Gap, Hosted by Congressman Joe Kennedy and Vertex Pharmaceuticals CEO Jeff Leiden
May 1—The Department of Higher Education and the Governor's STEM Advisory Council are partnering with Dassault Systиmes to launch a new STEM Council Lecture series beginning at Dassault Systèmes, 175 Wyman St. in Waltham, on May 2 from 3-6pm. The inaugural event will feature Gary Beach. author of The US Technology Skills Gap: What Every Technology Executive Must Know to Save America's Future. Beach, publisher emeritus for CIO Magazine and founder of TechCorps, will give a talk on the history of the technology skills gap in America, lessons learned from other economic superpowers and recommendations for the U.S. market.
Mr. Beach will highlight three themes to explain why STEM matters: a stronger future economy, a more employable global workforce, and increased national security. Mr. Beach will offer recommendations for moving forward, including: a new approach to individualized student assessment; strategies on teacher recruitment; the importance of "doing" in the learning of STEM; and a new approach to reinventing the public education system in America.
"We've developed this series to engage members of the STEM Advisory Council and business leaders in a deeper conversation about the future of STEM education in Massachusetts and the need to increase the capacity of the STEM Pipeline in Massachusetts," said Allison Scheff. Executive Director of STEM for the Commonwealth. The event is free and open to the public. it will be hosted by the Governor's STEM Advisory Council Co-Chairs Congressman Joe Kennedy and Co-Chair Dr. Jeff Leiden. CEO of Vertex Pharmaceuticals.
Op-Ed: Are our students ready for college?
By Mitchell Chester, Commissioner of Elementary and Secondary Education, and Richard Freeland, Commissioner of Higher Education
March 27—Massachusetts's chief economic asset in the global economy is its unparalleled brain trust — the preparation and production of a highly educated citizenry and workforce. As a national leader in education, the Commonwealth has seen its elementary and secondary students rise to the occasion time and again with increased rates of proficiency on state and national exams.
But beneath the surface of this strong student performance, a more nuanced picture emerges. Nearly 31 percent of Massachusetts's public high school graduates who enroll at one of the state's public colleges or universities — including 65 percent of all community college students — place into one or more noncredit-bearing, remedial courses. Achievement gaps between students of color and white students are higher than the national average, as are the gaps between the college enrollment rates of students of color and white students. In a state where 72 percent of the jobs will require college degrees or training by 2020, the fact that so many students are deemed unprepared for college should set off alarms.
Educators need new assessment tools that guide them in instituting earlier and more effective interventions to support struggling students. >> Continues on BostonGlobe.com